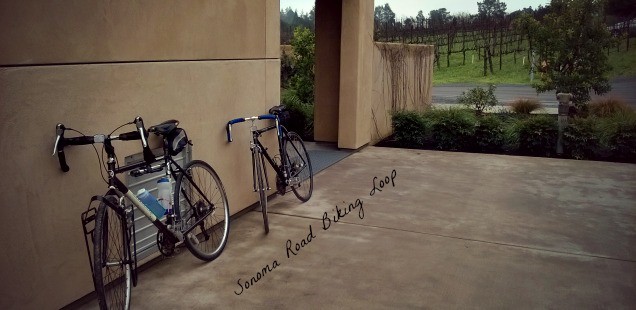 Brews and Biking Shoes: Sonoma County Tasting Loop
Instead of 'Brews and Hiking Boots' this trip was more of a 'Brews and Biking and Wine Too' sort of trip. Curtis and I head out to Santa Rosa in January and attempted to follow the "Merry Wheeler," a bike ride with a merrymaking pit-stop at a Sebastopol brewery as described by Weekend Sherpa. Of course before we even had one single drink I went and got us "lost" by taking the creekside Prince Memorial Greenway bike path! Good thing it was even more scenic than the original trail, plus we got to see some of the real Sonoma farms and impulsively hit up a gorgeous winery connecting over to the intended bike trail.
My Moto?:  Those who get lost are too upset about it.
Prince Memorial Greenway and Joe Rodota Trail Bike Loop
Distance: A wonderfully flat 20 miles, the biggest hill on Occidental Road right before you make it to Fog Crest Winery. Sonoma County Parks Map of the trail here.
Trailhead: I was parked in the Railroad Square Area, actually staying on a ground floor room at the La Rosa Hotel Carriage house which has a sweet large room and gated patio setup for those with bikes. From Railroad Square I lead us towards the Joe Rodota Trail up 3rd Street, turned right onto Pierson St, and then chose to go left instead of right down the trail. Left took us up the Prince Memorial Greenway. Right would have taken us to the Joe Rodata Trail (how we returned). Trailhead Map
Although it was completely by mistake, I think the Prince Memorial Greenway is the more scenic of the two trails on the loop. And although the country roads it dumps you onto are not in super quality shape, they are paved. The Occidental Rd bike lane could use a little clearing, but it gets the job done. The trickiest part of the whole trip was finding the trail headed towards Sebestapol at Hwy 166. My advice it to get into the left turn lane of traffic, then turn a hard left towards the sidewalk – or just walk your bike. Following the trail through Sebastapol is a little tricky too – although Weekend Sherpa has some good instructions.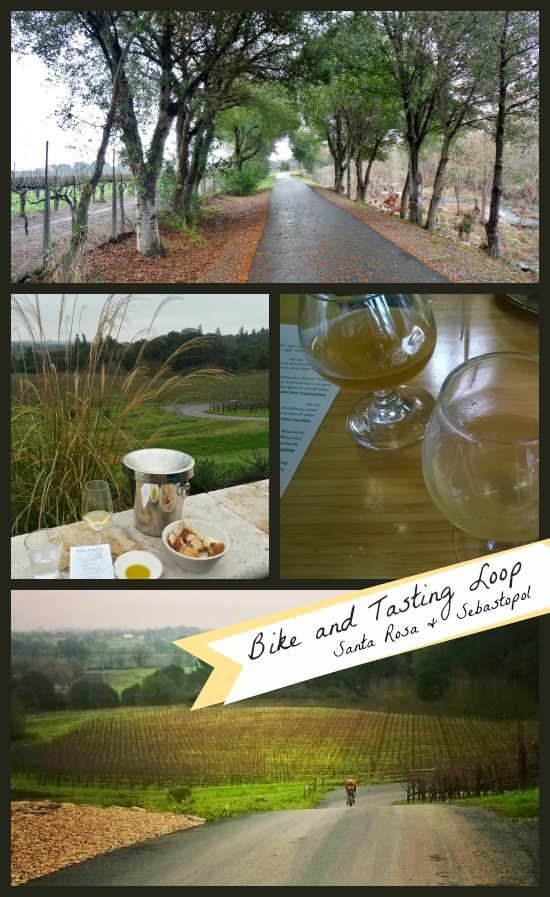 Most importantly – don't forget to stop and enjoy yourself! We stopped at Fog Crest Vineyard on a whim and found it has the most amazing view of Sonoma and wonderful selection of Chardonnays and Pinot Noirs. Alternatively just down Occidental on the other side of Hwy 116 is Taft Street Winery. Once in Sebastopol we turned left down McKinley St into the Barlow Shopping district to visit Woodfour Brewery on the south side of the road. There is an alternative here too – which I would love to try some other time – of Warped Brewery on the north side of the road.
Oh yeah, and you still have to bike back… which is why we had to be choosy. I guess we just will need to plan a return visit to hit the other stops someday?!