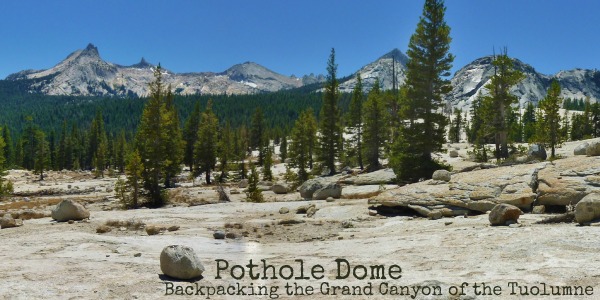 Glen Aulin to Pothole Dome – Backpacking the Grand Canyon of the Tuolumne Day 4
Curtis and I were invited to hike the Grand Canyon of the Tuolumne with our friend Christine for her annual birthday backpacking bash. She always invites a big group of friends to do something really cool for her birthday, and considering the Grand Canyon of the Tuolumne was on my "To do" list it was perfect! Fun, friends, & amazing sights!
Navigate to The Grand Canyon of the Tuolumne Backpacking Report  page to read about the other 3 days of  the trip, or continue on to read about hiking on day 4…
The 4th and last day of hiking the Grand Canyon of the Tuolumne – time to get excited for some (veggie) burgers, beer, and sitting! Forcing down my last sip of rehydrated milk from my granola that morning I was ready to never pack myself dehydrated milk again (until next summer, maybe? If Curtis insists). Rushing to finish a less than satisfactory breakfast left me plenty of time to look around, and spot what was determined to be a Peregrine Falcon, one of the fasted birds in the world! Speedy breakfast = speedy birds? Very cool.
Our final day of hiking would be taking us up the trail past White Cascade and Tuolumne falls, where we would then stay on the south bank, instead of taking the bridge over the Tuolumne to the north bank of the river, and continue climbing off trail to Pothole Dome where the vehicles were parked. The "off trail" route was actually fairly well beaten in, but branches in the unmarked paths still managed to get us turned around once. Hiking on this off trail portion allowed us to see up close the only basalt outcropping in the park. Geology!
Although the off trail route may have been shorter in theory, it never really ends up seeming that way. Part of the last day mentality makes it so the hike just drags as you imagine the finish: burgers &  real people food. Alternatively though, looking back as we exited the canyon makes you insta-nostalgic for the beauty that you found on the trail.
The Grand Canyon of the Tuolumne was definitely an awesome backpacking trip. Some of the best parts of this particular trail were the abundant swimming holes, the low bug count, and the many waterfalls -even when the ones in the valley have all but dried up! Perhaps I will have to take Curtis again so he can see the whole thing, without having to go to work.