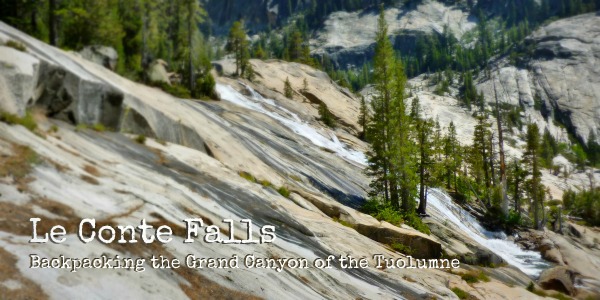 Grand Canyon of the Tuolumne to Glen Aulin – Backpacking the Grand Canyon of the Tuolumne Day 3
Curtis and I were invited to hike the Grand Canyon of the Tuolumne with our friend Christine for her annual birthday backpacking bash. She always invites a big group of friends to do something really cool for her birthday, and considering the Grand Canyon of the Tuolumne was on my "To do" list it was perfect! Fun, friends, & amazing sights!
Navigate to The Grand Canyon of the Tuolumne Backpacking Report page to read about the other 3 days of the trip, or continue on to read about hiking on day 3…
It was on day 3 of backpacking the Grand Canyon of the Tuolumne that we were to see the most official waterfalls – Waterwheel, LeConte, and California Falls – and all the while gaining elevation to take us out of the canyon.
I started out that morning with a cold dip in our campsite swimming hole, in preparation of what I anticipated to be a hot day of hiking. Refreshing! Then, again, the whole group stopped at a deep and cold swimming hole just before starting our hike up the switchbacks to waterwheels falls. Once we started the switchbacks I was drenched again… in sweat (whomp, whomp). Since there are so many views to take in the hike is remains inspiring and as a reward there awaits a nice beach (with sand & gravel for the tired feet!) to cool off a little ways past the top of LeConte falls.
I know I have mentioned it before, but I LOVE gravel for my tired feet. It is a poor man's masseuse, and even better since you won't have to worry about a human being having to touch your gross hiker's feet, plus that whole deal with pedicure infections that you hear Oprah mention all the time (ew). [On an aside, check out this crazy plastic gravel massage mat
the internet is trying to sell me for when I can't get out to gravel in real life! YES.]
We ended the evening camping in the Glen Aulin basin, but not in the High Sierra Camp/backpackers campground, and once again found a sweet little spot with an excellent view of Wildcat Point. The Tuolumne has a more windy and peaceful section here, which was a nice change from the rushing waterfalls we had hiked past all day.