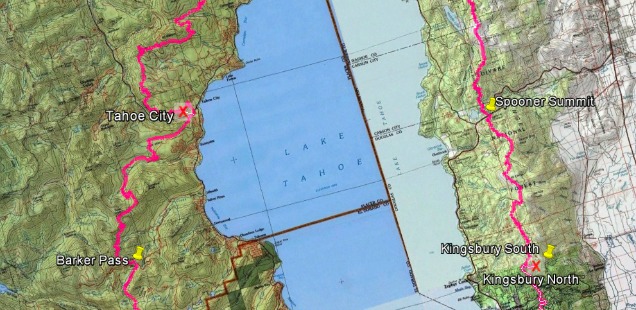 I'm Thru-Hiking the Tahoe Rim Trail!
Tomorrow I will set foot for the first time on the Tahoe Rim Trail… hopefully I think it is alright because then the plan is to thru-hike it. Actually, even if I (somehow, in an unlikely turn of events) find out it is pretty lame and filled with mosquitoes and summer tourists I am planning to through hike it. Because THRU-HIKING, that sounds impressive – right?
This was all my friend Trails idea, and has been her very labor intensive project planning for the last few month… Thanks Trails!  I am so excited she invited me along, and hope I can carry my own weight while simultaneously still enjoying the trail. Our route will take us just under 180 miles and 12 days to complete.
This will be one heck of a trail report/journal/blog when I get back, but until then I'll share a couple of the many places I am looking forward to visiting:
+++ Relay Peak, all of the passes, Christopher's Loop Vista, visiting the Desolation Wilderness again, eating food, maybe seeing a pika (?), and Galena Falls… plus other many things.
Wish me luck?
UPDATE: I made it!!! Read my 12 days of blogs detailing my full experience thru hiking the Tahoe Rim Trail here.