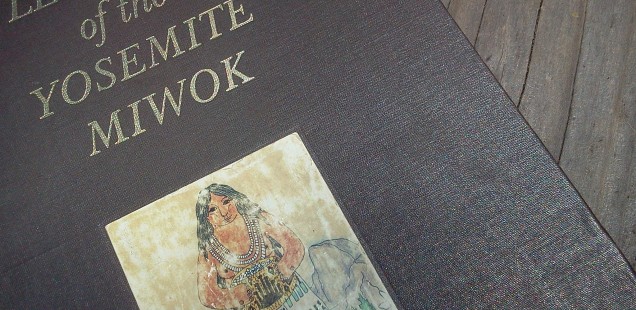 Sierra Book Challenge: Legends of the Yosemite Miwok
It is 10:32 am here in Groveland and already 81 degrees outside. Better yet we have this vibrant neon pink warning on the National weather Service NOAA map indicating "Excessive Heat Warning," whatever that means. Which is a round about way of stating that  right now I am hiding in our insulated (but not air conditioned) house with all the window shut and all the appliances (save this laptop) closed up. But, what better time than when you are sitting in your darkened cave home to grab a cucumber cooler, a book, and try not to move too much?
The Sierra Book Challenge
My Sierra Book Challenge is to force myself, and perhaps Basil the bunny who might get a nom in edgewise, to try and read any number of books about the Sierra/general outdoors that I so ambitiously picked up from the library book sale. The idea for a personal Sierra book reading goal started after I read Death in Yosemite, where I gained knowledge that made hiking in the park a much more lively experience – meaning I get to tell Curtis "Someone died here!"  Since I am not a morbid person by nature it seems only natural to round out my knowledge some other reading.
In the interest of motivating myself to follow through on the this challenge I am sharing it here and on goodreads. The books I have lined up to read so far are shown on the right – but I am always looking for new suggestions of anything hiking, history, ecology, or general sierra related. Plus I through in that backpacking book I have from the 1980's just to see how good the current generation has it with all our darn pricey ultralight gear!
Legends of the Yosemite Miwok
Recently I visited (the outside of) Bower Cave, a trip which I have yet to blog about because I have become distracted in unwinding some information about myths around Bower cave as told by the native person's in the Yosemite area.  Researching the native people in any area often seems like falling into a rabbit hole, where the name the native people call themselves does not match what names the white settlers have bestowed on them. Other times current tribes make accusations about x, y & z, after which there continues to be two or more branches of a story, perhaps equally true. Meanwhile other "Scholars" continue on, with or without taking all this into consideration.
I found the book Legends of the Yosemite Miwok
at the Groveland library through this "research". Although the book has none of the Bower Cave history I was looking for it does contain a number short tales that tell of how the sun came to the Valley, how the forests grew, and two creation tales for Half Dome. These tales are set up as short little children's bedtime stories, but are often more prickly like Aesop's Fables than those stories we have Disney-fied over the years. For instance one story of two cubs being unknowingly carried up the growing El Cap in the middle of the night follows the story to it's logical end – mortality – in this book, while in the watercolor children's book  Two Bear Cubs,
 popular at many gift shops around Yosemite, the story instead results in a much happier rescue story.
One of my favorite stories from the book is the Legend of the the Fish Woman. This story features a woman who does not meet an untimely end (unlike many of the women in this book), but rather manages to protect the river she lives in against those who unfairly try to take advantage of it. Notably part of the story is set in the Merced River in an area that is now Lake McClure – which only makes me wonder more if there are any bad vibes in the area?
I gave the Legends of the Yosemite Miwok 4 out of 5 stars on Goodreads because it is a unique and interesting read, with great illustrations. Minus one star because Legends are better in told than read, and I look forward to recounting these tales when I am among the rocks and valleys these legends told of.