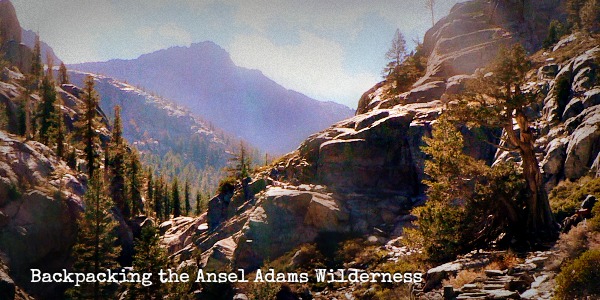 Shadow Creek Trail Head to Garnet Lake – Backpacking Thousand Island Lake Day 1
Curtis had been (good-intentionally!) pressuring his brother, John, to come down to visit the Sierra and going hike on the John Muir Trail (JMT) for over a year now… and he did! Over the course of 3 days (Day 2 & Day 3 blogs) we visited Thousand Island and Garnet Lakes hiking approximately 17 miles on and off of the JMT on our through hike from Agnew Meadows down to Silver Lake.  
Our hike started out in the Inyo National Forest, our favorite national forest on the East Side of the Sierra, starting from the Shadow lake/Agnew meadows trailhead by Devils Postpile.
Here are some things you should know about hiking in the Inyo before you go–
Permits are available online! But you do have to pick them up in person
We needed bear can. Evidently the bears are rampant on the John Muir Trail. Not that we saw any – but we heard some good stories!
You have to pay to park at Devils Postpile. Luckily if you are through hiking you can time it so you can retrieve your car from parking after hours and not have to pay again.
And thus, with some rather last minute planning we were off, started hiking around noon-ish. This was Curtis's brother, John's, first trip in the Sierra (perhaps even in all of California) and his first backpacking trip with his super cool Osprey pack – because all the cool kids have Osprey backpacks. Curtis and I had been on this very first stretch of the hike up to Shadow Lake last year while backpacking with some friends up to Ediza Lake, but seemed sooo much quicker easier this time. I refuse to believe we are in that much better shape than last year (especially after taking off a month+ from backpacking after Curtis back tweaking)… maybe because it was cooler it seemed like a better trail?
After breaking for a bit to enjoy the first view of Banner Mountain at Shadow Lake we continued on to meet up with John Muir trail and start the climb up to Garnet Lake. The fall weather was continuing to surprise us – although we should have expected it. We had a couple of moments of slight concern about reaching camp before it go to late. Must note for next time that the early sunset and those big heavy sun-blocking clouds that we often don't see in the summer means we have to try and start even earlier!
Arriving at Garnet lake from the South I was so excited to set my packs down and eat some dinner (Feta+noodles= backpacking happiness)! Finding a campsite was trickier then I had expected for a weekday in the fall – busier & the ground around garnet lake is not extremely flat. We did find a nice perch though and enjoyed the evening knowing that the next day would only be the short hike to Thousand Island Lake. …To be continued