My Mission: Hike every (reasonable?) day hike in Yosemite. Want to follow my progress or find out which hikes interest you? Check out the map below. Click on the markers on the map to find out which Yosemite day hiking trails I have covered in this blog & zoom in to see where the trail travels along the terrain.  Or, scroll down below for more info and links to all my Yosemite Day Hike blog posts, which include more trail conditions, photos, and maps!
---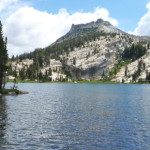 In the fall of 2012 Curtis and I hiked up to Lower Cathedral Lake just before a snow storm started doing it's thing. At that time a couple backpackers were around (even though no overnight parking was allowed on the road for the season anymore) - but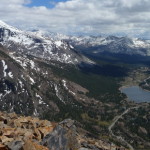 Choosing the location of hikes is the start of my adventure. Zooming around on Google Earth, searching for maps, trying to predict weather... rarely do I ever just decide to hike down a random trail, I like to have a vision for my hike. Also, its a g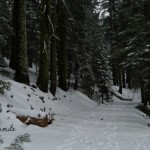 On Tuesday winter had a short gasp of life & snow fell from the skies very briefly around my home in Groveland. Word is that right now the Gin Flat Loop might be snowshoe-able. But not for long. The state of California hasn't been experiencing a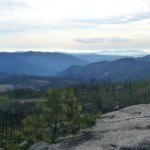 Last month Curtis and I made the trek up to Devil's Dance Floor for the first time, after both hearing about the spot and eyeing it on the map for awhile now. We could have gone there in the summer and easily approached the peak from Tamarack Flat Ca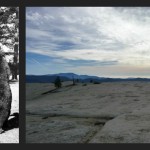 Spoiler Alert: There are far less devils and dancing than initially anticipated. Devil's Dance Floor is a named peak that floats tantalizing above the Big Oak Flat Road and Foresta area slightly off trail.  It's hard to not want to visit something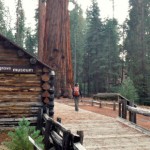 The Southern end of Yosemite gets no love, or at least not from me. I've been living here for over 4 years now and I still hadn't visited the Upper Mariposa Grove - which is a little pathetic considering taking the tram to the museum and this upper r
With Curtis out of town the other week I had time to do one of Yosemite day hikes he has been less than enthusiastic about. I have really been getting down to the last few day hikes (although there are still some major ones, like the Mist Trail, whic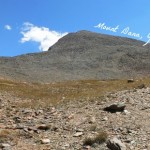 There are some trips that Curtis and I have been meaning to do for years now, Lyle Glacier, Mount Lyle, Mount Whitney, anywhere in Sequoia, and Mount Dana. Guess which one we finally crossed off the list!?! (SPOILER: it's should be pretty obvious by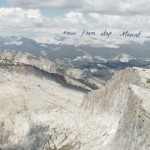 I hiked up Mount Hoffman with a group group of friends in early July this summer, it was my second trip up Hoffman. The first trip was in the fall of 2011 - which I can from experience say it is an amazing hike both summer & fall. On that first t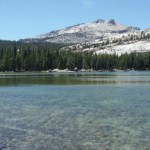 Recently it has been getting hot down in Groveland, which can mean it will be even hotter down in Yosemite Valley. I love the valley, and it is always a must do if you are only going to the park for a short period of time (I might suggest biking, a d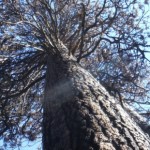 The Old Big Oak Flat Road trail from Hodgdon Meadow is Yosemite's closest trailhead to the town of Groveland. Which makes sense because the old road did literally connect from Groveland to the park until it was bought by the state of California in th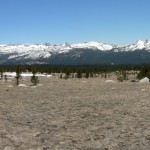 Last weekend I had the urge to go and try my hand hiking up in the Tuolumne Meadows area. Tioga pass has been open off and on for a few weeks now, but I kept deciding to put it off because I wanted to really hike - not to hike for a bit, then run int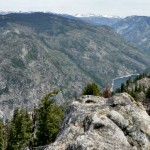 I never hiked the Smith Peak trail before the fire, but right now it is a heck of an adventure! I solo hiked this 14-ish mile day hike starting early last Friday morning, rolling into the Hetch Hetchy gate around 7:30 am. I had completely forgotten t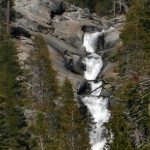 Last year after backpacking past a very dry Chilnualna Creek my interest was peaked about the Chilnualna Falls located just a few short miles down the trail. Apparently I couldn't go then - I had a firm nighttime destination besides the lake of any w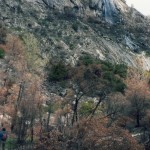 Have you heard about the rock slide that happened in the beginning of this month in Hetch Hetchy? It is blocking the trail just past the Wapama Falls footbridges - meaning it shouldn't affect day hikers too much, unless your game plan was to power hi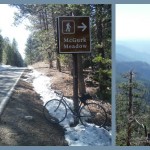 This last weekend the Yosemite Facebook page posted a little note stating that the Glacier Point Rd was going to open for cars today (April 14 2014) and with bicycle traffic permitted the weekend before.  A few years back I had biked Tioga Pass Rd in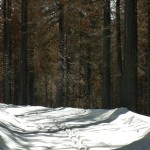 Yosemite is know for having three giant sequoia groves (Mariposa, Merced, & Tuolumne), but did you know about the park's less visited Sugar Pine Grove, the Rockefeller Grove? I hadn't either until Curtis had mentioned it as an option for a late s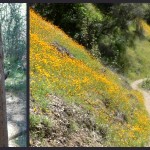 Guess what season it is? ... California Poppy Season! Last weekend's arrival of California's poppies swept aside any previous hiking plans (Sorry Little Nellie Falls, check you latter) and instead filled my head with visions of hiking in sandals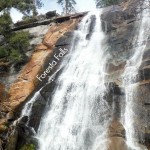 This low snow winter has had me creating some more creative hiking endeavors: Mariposa's Williams Peak, the"Secret" Sierra Point, and now Yosemite's more "Elusive" waterfall - Foresta Falls. It is a nice short little hike, but with lots of room to ex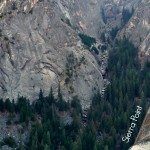 Alright, I will admit Sierra Point is apparently not a secret. We saw a dozen other people while on the "Trail" this Sunday... way more then I ever see hiking to Mt Watkins (one of my favorite off trail hikes in the park). My theory: because of the d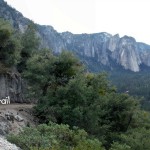 The news for the last month has been inundated with tales of polar vortexes, snow closing down highways in Atlanta, and snow days for kids and adults alike... on the east coast. Here on the west coast we are in the middle of in the middle of a critic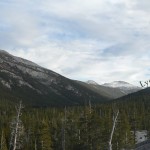 I headed up Tioga pass a week and half ago hoping to find some snow and frozen winter scenery - which was pretty silly considering how many dry days in a row we had had prior. But today, after a brush of windy wet weather, Tioga Rd is currently close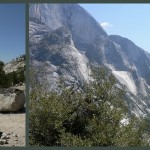 Yesterday I drove through the park to get home from Southern Yosemite & the Sierra National Forest (FYI: New backpacking blogs to come!), and was both surprised to see that Hwy 120 through the park is now open for passage! No stopping on the acti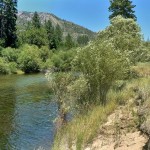 I have had a river filled couple of weeks here in July, enjoying the wonders of the wild and scenic Tuolumne & Clavey Rivers. Great for the hot weather, and even better for the heart...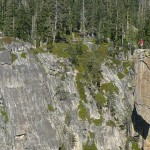 I have been meaning to post about Curtis & I's hike to Sentinel Dome and Taft Point since late June. We hiked this one on June 20th, on a rare weekday day hike. The trek was not very intense, but provided some of the best views of far eastern mou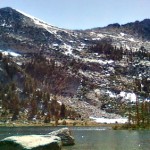 Happy first day of summer 2013! I feel as if I have been slacking off on my duties as a summer trip planner - I only have reserved permits for one backpacking trip so far (more on that latter) ... but in the mean time Curtis and I have been checking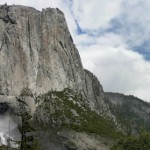 It is May in Yosemite and you know what that means - Waterfalls! The snow in the high country is melting and recently (well, last week at least) we have been receiving some hot summer type weather. Springtime is the best time for waterfalls every yea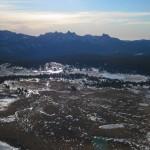 Tioga Pass isn't opened yet - but since almost all of the other passes in our neck of the Sierra are open, I am channeling my anxiousness into a blog post about one of my favorite short hikes on Tioga Pass: Gaylor Peak. Specifically the first and mos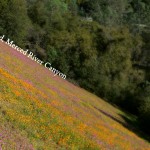 Trailhead:
West of El Portal take the Foresta Rd bridge over the Merced, then immediatly turn left onto Incline Road. The narrow Incline road goes past many nice looking forest service campsites, then turns to gravel before you reach a gate. Park here and start hiking past the gate.
Distance:
About 4.5 miles out and back (2.25 miles each way).  The trail is really a service road that runs parallel to the North side of the river, which ends at  where Hwy 140 crosses the North side Merced to via a small aluminum bridge to avoid
a landslide that happened a few years back
.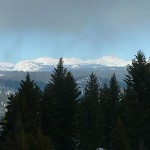 Winter is almost over! Or, at least it seems that way since daylight saving time and 60 degree weather has started here in Groveland. But, since it did rain last week Curtis and I were able to Yosemite snowshoeing one more time this weekend. We ended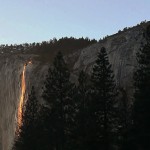 This weekend I got to check an item off of my Yosemite Bucket List: seeing the Yosemite firefall! Curtis and I spent two evenings (Saturday and Sunday, February 23rd and 24th) among a flock of fancy cameras & photographers waiting for the sun to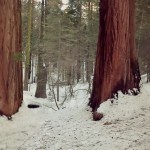 Our trip snowshoeing the Merced Grove of Giant Sequoias allowed us to travel off trail to see a few of the Sequoias you can only peer at in the summertime.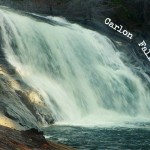 Trailhead:
Evergreen Rd, Stanislaus National Forest - after bridge on South fork of Tuolumne River/ Opposite side as Carlon picnic area sign!
Distance:
~ 3.5 miles out and back. Trail is fairly level at first and then goes over a couple large hills right before reaching the falls.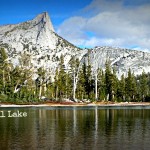 Trailhead:
Tioga Rd / Hwy 120, on the West side of Tuolumne Meadows by the Cathedral Lakes sign. Parking here is pullout/parallel and usually a mess so you should see the line of cars as you approach.
Distance:
~7 miles (out and back). climbing mostly in the hike "out", & descending in the back "back"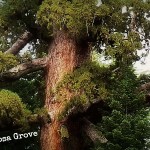 Trailhead:
Mariposa Grove Rd/Parking lot off of Hwy 41. Might be necessary to take a shuttle in peak times of year.
Distance:
~ 2 miles round trip to Grizzly Giant & Tunnel Tree. The trail is moderately sloped on the hike out.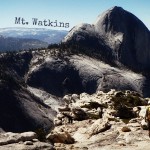 Trailhead:
Olmsted Point, off of Tioga Rd / Hwy 41
Distance:
~ 9 miles out and back. Trail is fairly level with just enough climb in the way out that you will appreciate gravity's help on the way back.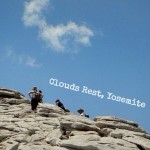 Trailhead:
Sunset Lakes, Tioga Rd / Hwy 120 on the West end of Tenaya Lake
Distance:
~ 14 miles out and back. Good and steep on the way out, with downhill on the hike back.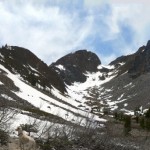 Trailhead:
Lundy Lake Rd (off of Hwy 395) past the lake & cabins down to dirt road pullouts near an Outhouse.
Distance:
We hiked ~3.5 miles before we hit the snowline (Just beyond a dayhike to Mill Creek Falls), making it 7miles out and back. Trail was fairly hilly and required you to ford past runoff streams and cross some good old fashioned shady log bridge.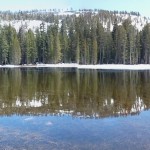 Did you know that it a not-so-secret time honored road biking tradition to travel over mountain passes after the snow melts but as the road remains closed? I didn't, until we heard about being able to cycle Tioga Pass in the park! I cant tell you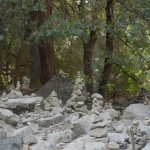 Curtis and I had planned to bike around wine country this weekend, but, as we should have expected, it was your traditional end of September scorcher of a day. Instead we decided to take the opportunity to swim in Yosemite, and bike around the valley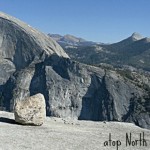 Trailhead:
Porcupine Creek Trailhead, off of Tioga Rd / Hwy 120
Distance:
~9 miles. Slightly downhill on way out and then uphill on the way back. The end of this hike take you onto granite slopes and it is probably best if you wear some shoes with traction & not your foam Tevas like I did.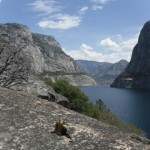 Trailhead:
Evergreen Rd down into Hetch Hetchy Entrance Station, parking lot by dam
Distance:
~ 4 miles rounds trip to Wapama Falls, we went ~ 1.5 miles past that and in addition got to see rattlesnakes & bears!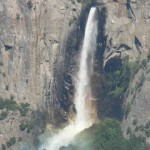 Trailhead:
Behind Tunnel View, off of Hwy 41 right outside of the Valley
Distance:
~ 2.5 miles, but filled with steep switchbacks and hot in the summer sun!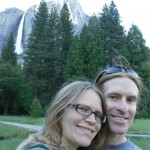 Trailhead:
Parked by Bridal Veil Falls (parallel because parking area was full) in the Valley.
Distance:
~4 miles ( we walked there on the trail and back partially along the road/bike paths) Flat with but unexpected hills compared to the road.