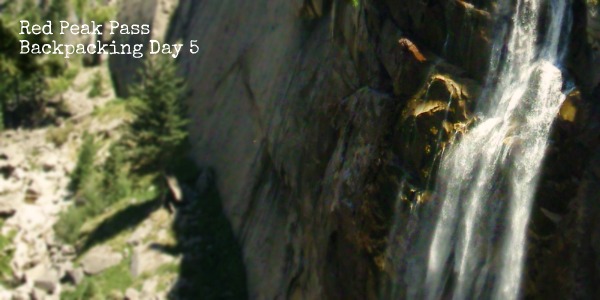 Little Yosemite Valley to Glacier Point – Backpacking Red Peak Pass Day 5
Curtis & I hiked Red Peak Pass in Yosemite for 5 days and 4 nights. It was 50 miles of mountains, lizard push-ups, rivers, and lakes. Check out the blog post detailing each day's ups, downs, and tips: Day 1, Day 2, Day 3, Day 4, Day 5
Or continue on to read of day 5's adventures…
Curtis realized that each day of our trip we had managed to leave earlier than the one before. Needless to say I was pretty excited to get started on our last (and shortest?!) day, thinking each step we took would be one step closer to getting home to Basil & Herman (and a sandwich, and showering, etc.). Also what is great about this part of the trail is reaching latrines in the Little Yosemite backpackers camp closer to Half Dome, which uses very fancy solar composting and makes me think back to all the things I learned earning my environmental engineering degree.
Passing Nevada Falls and getting into seeing day hikers for the first time since leaving, we were lucky to go up the first switch backed section of the panorama trail in shade. We then met back up with good old Illilouette creek (remember from day one?!) and see the official Illilouette falls (which I imagine are more impressive in the spring, but appeared to be running better than Yosemite falls at that time). The remainder of the hike was 2 long hot miles uphill to Glacier Point. Which we survived and got sandwiches! One Veggie Pita, One 3 cheese, and One Nestle ice cream cookie sandwich.
In conclusion, I would say that Red Peak Pass was super amazing, thanks Yosemite. But really you should really get some celebratory It's-It's ice cream for sale at the Glacier Point store. Please? Just, think about it for me.