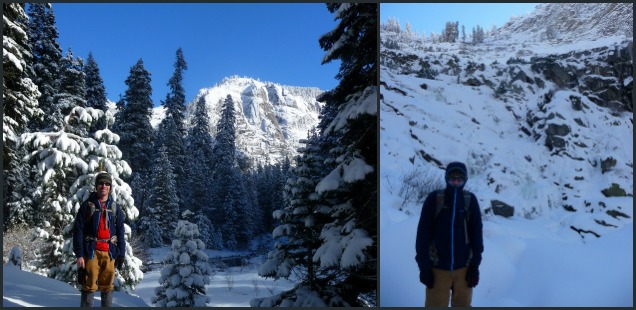 Snowshoeing to a Frozen Tokopah Falls, Sequoia National Park
Hiking guides for popular trails rarely have give a good impression of what you will find in the winter. For example, I just typed in "Tokopah Falls Winter" into Google image search, and that 5th image is not really winter. Pah-lease, Google. And forget about it when looking for postcards:
As you can see, Tokopah Falls in the summertime looks like a familiar Sierra Nevada cascading fall tumbling down granite – like one of the many we passed in our Grand Canyon of the Tuolumne backpacking trip. We didn't see this waterfall though, we say this one:
Traveling into the Grand Canyon of the Tuolumne right now would be pretty dangerous – and difficult! In Sequoia National Park we caught a glimpse of what these sierra cascades could look like, during an enjoyable sunny of snowshoe trip. By far, my favorite trip from our winter sequoia visit!
(Clearly we had gotten the hang of our daily sequoia weather patterns by this point… just before we left of course!)
Snowshoeing Topokah Falls, Winter in Sequoia National Park
Distance: The internet says this hike is 3.4 miles, but my Garmin showed that our snowshoe was 6.4 miles (maybe due to the canyon messing with the GPS, maybe due to getting a little distracted enroute). They both agree that there was 600 ft elevation gain through, which was a nice and gradual. Tokopah Falls hike map
Trailhead: We started from our winter camping spot near the visitor's center at Lodgepole campground. This was as far as they plowed when we were there, but no promises after the campground closes down for the season. Map
From the Nature Center parking lot we took off down the unplowed campground road, quickly reaching the the picturesque bridge that leads to the proper trail. The trail follows the Marble Fork of the Kaweah River, which is super striking under the snowy pines and granite ridge.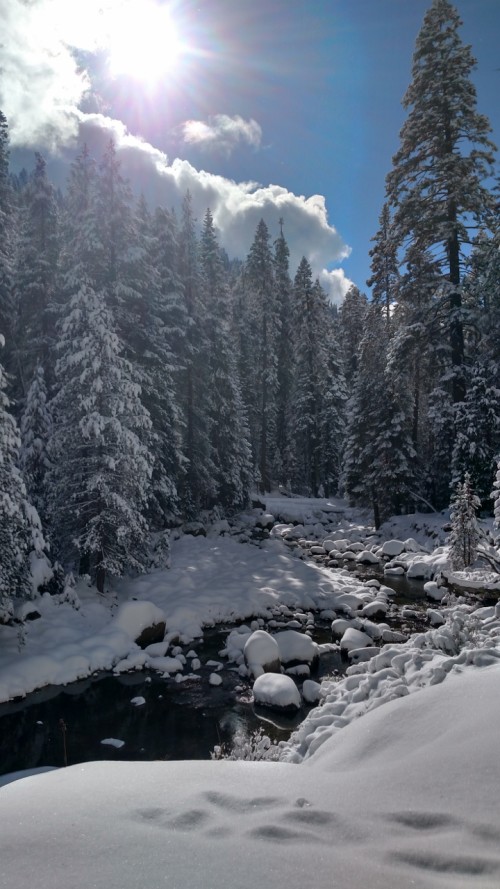 We strapped on our snowshoes for the hike, although this was not entirely necessary since it had been trampled by many before us. Quite a few hikers were just walking along in their standard sneakers (The obligatory Nike Frees – WHY does everyone have these? They have NO traction). Instead, I would really recommend something a little more water resistant – if not a straight up normal pair of boots. BTW: I love my winter boots, and I think some Californians just might not own winter boots and know how great they are? Also, If no one else has hiked in snowshoes before your trek expect to posthole a bit and need to use your map, there is not too much in the way of trail signage.
The final quarter mile stretch of this hike might sometimes get dicey in terms of avalanche danger after a big recent snow. If you choose not to continue you could still spot the falls from a distance and view the surrounding canyon landscape style. A worth-while hike whether or not you decide to make to to the final turn around point.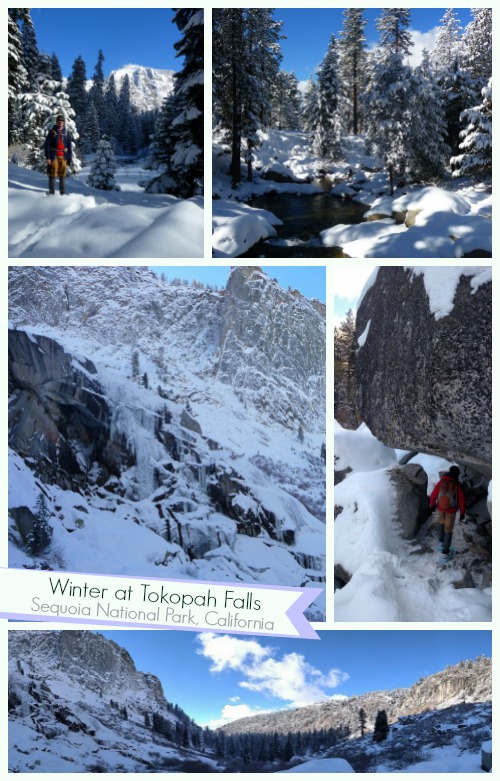 Weatherwise- just in case you want to compare our conditions to the ones predicted for your visit – it had been in the teens (Fahrenheit) nightly, but not cold enough for this fork of the Kaweah River to freeze the waterfall solid. We could still hear, and just barely catch a glimpse of, the cold waters rushing beneath the layers of ice and snow. The daily afternoon snowfall had ensured our vistas were white, but not too chilly. Overall a lovely winter snowshoe in Sequoia to end our trip on.