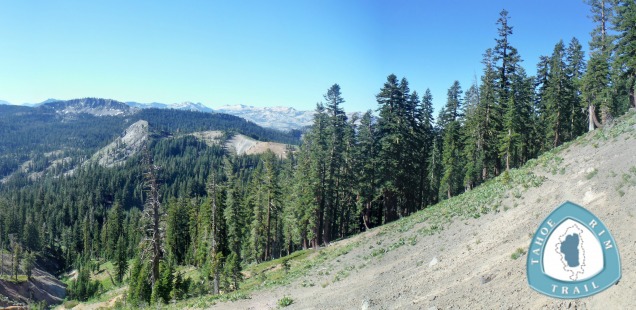 The Truckee River, Tahoe Rim Trail – Day 6
Beginning June 25, 2014 I thru-hiked the Tahoe Rim Trail (TRT), circling Lake Tahoe in 12 days. Accompanied by my friend and fellow blogger, Trails, we bravely took on this 165+ mile loop. I will be blogging a day-by-day rundown of each day's hike, night's campsite, and my contemplations while beating down miles. Check out my complete trip report for the TRT here – This is day 6.
The longest backpacking trip I had done before hiking the Tahoe Rim trail had been my 5 day, 50 mile hike around Red Peak Pass. Here on day 6 I was breaking into the new frontier of trip length… and at the end of day 6 we had hiked over 90 miles! WHAT?!
Day 6 was arguable one of our longest days too – from the map we guessed it was a 17.5 mile hike, but after hiking it we were unsure if that was entirely accurate. None the less, it was a long day.
As I mention on way back on day 1, big miles can initially seem intimidating. By day 6 I had been able to develop a healthier 'think less, hike more' attitude about them. Here was my general game plan that seemed to work:
Wake up early. The longer the mileage you have the earlier you need to get on the trail. Being able to hike about half your miles by noon is ideal.
Mentally note landmarks you will enjoy along the way, but do not note too much. Just enough to congratulate yourself when you make it, but not enough to be hyper aware of how slow time is moving.
Treat yourself: If section of trail is mentally or physically challenging use snacks like people treats/rewards. Runner gels and gummies motivated me up so much elevation gain on the TRT.
Take breaks where you take off your shoes… in just one more mile.
I enjoyed mentally repeating "less than a 5k" in the final stretch of a hike. At some point this turns into "less then a half hour" and things get really exciting. Never start doing this too early.
Deal with any blisters at camp and get a full night's rest. Most nights my feet would "Reset," meaning they would feel relatively like normal feet the next morning.  I would have never made around the TRT it if my feet started every morning aching as much as they did the night before.
Thru-hiking the TRT from PCT Creekside Camp to the Truckee River
Mileage: 17.5 miles? The map we were using (read more about our maps on Trail's blog) says it is 17.5, but we think it may have been less. The biggest elevation gain was two stretches to Twin Peaks of switchbacks gaining over a thousand feet to twin peaks, then a 2000 ft decent to Ward Creek.
Water Sources: Seasonal creeks near Twin Peaks, Blackwood creek looking the most dependable in this area. Latter in the trail Ward Creek and the Truckee River (obviously)
It was an early morning – 6am start on trail, just cliff bars for breakfast. We passed PCT hikers still asleep in their tents as we hiked toward Barker Pass, the sun beginning to rise.
Barker Pass has trailhead parking, picnic tables, a latrine (lacking toilet paper), and some flat spaces to camp. This was our breakfast spot, shaving off 1.5 miles of trail before eating breakfast in an attempt to make this long day seem shorter. From Barker Pass we would start the climb towards twin peaks, passing a few nice camp spots – one dry with a view of Lake Tahoe, and a few along Blackwood creek. It was nice to get this elevation gain over early in the day before the temperatures began to rise.
From here we raced down the trail towards Ward Creek. Either the map's mileage was wrong, or we really were racing because we saw and walked right past McCloud falls. I did ask "Is that it?" and with Trails replying "It can't be, it's too soon." It was not too soon, sorry McCloud Falls. In all fairness it is a small waterfall, I might call it a cute one.
Entering into the Ward Creek area the trail begins to resemble a road, and and after crossing the paved Ward Creek Blvd the trail does turn onto a real dirt forest service road for a short time. The road grade was surprisingly steep, made more annoying by the fact that temperatures were increasing rapidly and my feet were about done with hiking.
Winding through Page Meadow and down to the Truckee River took a surprisingly long time, maybe just because it was the end of the day. Arriving at the Truckee there is a small access "beach" right next to where the TRT dumps hikers onto a gravel road. It was here we swam, cooked dinner, and enjoyed our evening.
I am not recommending staying in the same place we did, very close to this beach on the Truckee river because it doesn't seem like a place "hikers" should be camping. At every TRT trailhead signs indicate that camping is permitted "Within 300 ft of the Trail Corridor," which was true for our camping location. If we were more prepared I think we might have stayed in a Tahoe City hotel instead of camping next to where dozens of runners and dog walkers passed hourly. Not to mention the loud construction work that lasted all night.
Oh, but it was a fun place to camp. Fun mostly because it was the most ridiculous campsite of the trip. Also fun because we had survived one of our longest days on the trail, to find a beach! Time to try and relax before doing it again the next day.
More photos in the gallery below & continue on to day 7 or find links to all my TRT blog posts in my Tahoe Rim Trail Trip Report.