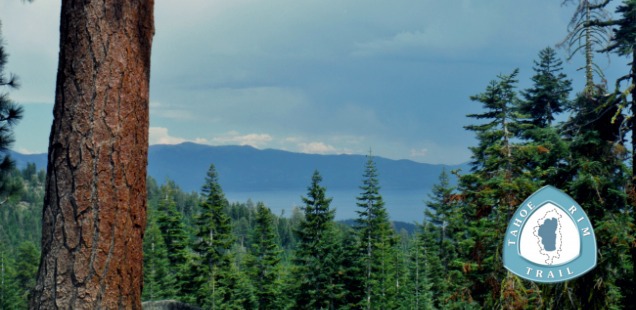 Watson Lake, Tahoe Rim Trail – Day 7
Beginning June 25, 2014 I thru-hiked the Tahoe Rim Trail (TRT), circling Lake Tahoe in 12 days. Accompanied by my friend and fellow blogger, Trails, we bravely took on this 165+ mile loop. I will be blogging a day-by-day rundown of each day's hike, night's campsite, and my contemplations while beating down miles. Check out my complete trip report for the TRT here – This is day 7.
Lake Tahoe is known for it's crystal clear blue waters, a trait it has partially due to an active sediment filtering habitat surrounding the lake. I knew this, but it did not hit me that this would affect water filters until the very beautiful Star Lake (way back on day 1 of hiking) clogged a hardy MSR ceramic filter with silt… And day 1 was only a brief preview of how very silty these lakes surrounding Tahoe can get.
Hiking out of Tahoe City on day 7 and onward we were entering into the stretch of the TRT where lakes and creeks become more rare, and the lakes you do find along the trail tend be mucky. Trail's and I had re-planned our daily mileage so we would be able to visit water sources before camping, eliminating the need to dry camp, but the silty water problem began continued to plague us more and more.
Filtering water out of Watson Lake took a long time, requiring cleaning the filter more times then I can remember. On day 8 we ended up giving up on filtering water out of Mud Lake and instead used a backup supply of iodine tablets. On the TRT you will need to bring those back up water purification measures and a method of cleaning your filter. Looking back on it I would advise any thru-hiker to prepare to prefilter sediment out of water sources as well.
Thru-hiking the TRT from the Truckee River to Watson Lake
Mileage: 14.2 miles. Hiking out of Tahoe city is a steep section of trail, and though it mellows out the trail continues to remain hilly. Watson Lake is ~1500ft higher in elevation then Tahoe City, but you end up hiking for elevation then that.
Water Sources: None between the Truckee and Watson Lake. You can buy water in Tahoe City instead of filtering out of the Truckee.
The morning sun rose over day's Truckee River Camp, and we quickly packed up as a dozen early morning runners and walkers passed our little setup. We needed to get out of there quickly! Our first plan of action in the morning was stopping Tahoe City in the morning for breakfast, resupply, and then restock on first aid supplies and hiking shoe soles. It was fun to be in civilization, but unfortunately it postponed our trail start time to 11am.
This was a low elevation hike on a hot day, the hottest day I experienced on the TRT.  So hot that I need to ration the my 3 liters of water from my thirsty self so I would not chug it all in the first half of the trail. Worse yet, there was a persistent distant "Wooo!" of people rafting down the cool Truckee River below, probably all enjoying some sort of refreshing beverage. On any other day that could have been me.
The hike instead rewarded us with beautiful views of Lake Tahoe, a storm brewing on the other side of the lake, and the Truckee River canyon. My favorite spots on the trail were alongside the Thunder Cliffs and near the top of our climb by Mt Watson. I am going to give cindercone and painted rock (which I think I might not have even spoted) a less raving review. Although I think some sort of interpretive signage by cindercone would have really made me understand/enjoy the geology more?
Racing against thunderstorms and our dwindling water supply I was struggling near the end of the day. It was such a relief to reach Watson Lake before running out of water or getting rained on (which never happened, silly weather). We found a spot by the trail on the eastern side of Lake Watson, at the advisement of a knowledgeable local in Tahoe City who had warned against camping on the west side.  It was good advice, seeing as the west side of the lake turned into a mountain biker parking lot early the next morning.
I can see why driving to Watson lake and hiking down the trail would be a nice day hike for those visiting Tahoe City: Lake Tahoe and Truckee River views, a trail shared but not dominated by mountain bikes, and rolling downhill hike. I think the trail surface though is just a bit too slippery from loose gravel for my liking. Maybe bring some trekking poles and definitely wear good shoes. Maybe also a microphone to "Woo" back at those rafting down the Truckee as well?
More photos in the gallery below & continue on to day 8 or find links to all my TRT blog posts in my Tahoe Rim Trail Trip Report.