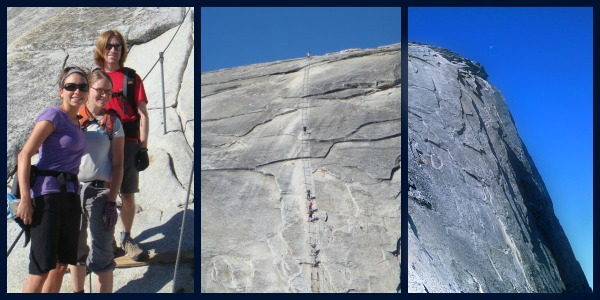 Half Dome Backpacking: Yes, the Cables are down now. Meaning it is the perfect time to start planning!
There are so many hikes I have been on that I have not blogged about. These are, of course, accompanied by so many excuses: Because of the timing (summer is busy), because the lack of good pictures (you might see that in this post), or simply because back in the day I did not have the inkling to blog about my hiking trips (I am looking at you, Denise the Michigan Tech engineering student).  But there are SO many good hikes, and many good tips, that it seems a shame that never share them.
So, taking a cue from Instagram hashtag #ThrowbackThursday, I am going post throwback blogs. Maybe not every Thursday, but as the whim strikes me. I am going to start with the backpacking trips listed as "Coming Soon" on my Sierra Backpacking Guide, then move onto some of my favorite Upper Peninsula hikes. So here we go… Half Dome Backpacking, September 19 & 20, 2011.
First, Let us Discuss the Ever-Changing Logistics of Hiking Halfdome:
Anyone who intends to hike half dome needs a permit. You need to go when the cables are up, which is usually between late May and early October. You need to wear good grippy shoes and bring gloves to grip the cables (I suggest leather/pleather work or biking gloves). Also, be prepared to stand in line during peak hours – there are hundreds of people vying for the same two cables.
I hiked Half Dome back in 2011 – which doesn't seem that long ago, but the half dome permitting system changes fast. It was a 3 person trip (Myself, Curtis, and my friend Jessica) – originally planned as a day hike, but switched to a 2 day backpacking trip.
Half Dome Day Hike Permits
When I reserved our day permits, back in the ye-olden days of 2011, the reservation system operated using a "reservation window." The reservation window for the month you wanted to backpack half dome opened up at something like 9am Eastern time (that is 6am in Yosemite's native Pacific timezone) and four months prior. Or that is what I remember, sitting in a Grass Valley coffee shop prepping at 5:45 am because I did not have internet at my rental.
With influx of traffic during the registration window it was only logical that the online registration system would become overloaded. The temporarily crash that ensued was as nerve-wracking as it was expected. I was having flashbacks to the MTU class registration system, which operated in a similar online free for all method. The experience re-antiquated me with the  feeling of quietly panicking in front of a computer, fighting against faceless jerks that didn't understand how much YOU NEEDED THIS . The weekend permits gone within minutes, others gone in maybe an hour.
I cannot imagine why someone wanted to change the reservation system /sarcasm/.
Now, the  day hike permit system operates as a lottery. Hikers must pre-plan their trip and send in the permit application in March to enter a lottery. Your march permit is your one opportunity for reserved half dome day hiking – Set your Google calendar alert now! Otherwise, anyone who wants to hike half dome can enter in the daily lotto, up to two days prior. Under this system you are less in control of your own destiny, but maybe less stressed? But this too could all change again before next year, who knows!
The moral of the story: Read up how the day hike permit system works now at the official website, and start planning. & Always prepare a backup dayhike. May I suggest Clouds Rest?
Half Dome Backpacking Permits
After deciding day hiking wasn't going to work for our schedules, Curtis just up and reserved a backpacking permit of Happy Isles to Little Yosemite Valley. Apparently it is no big deal to reserve these backpacking permits, unlike those ridiculous day hiking permits.
Albeit, permits out of Happy Isles do book-up quickly. Increase the likelihood of receiving the permit you want by reserving your backpacking permit 24 weeks prior the start date of your trip. Or wait until the day prior and hope to score a "first-come, first-served" permit. One couple we met on the trip had not been planning to hike half dome at all, but because a permit was open from Glacier Point to Little Yosemite Valley, they figured … why not? Plus, if you are planning long trip you can get a half dome permit from any trailhead, as long as you are hiking past the dome.
After reserving the normal backpacking permit you need to obtain a separate half dome permit. These were an additional $5, and require you to indicate exactly what day you are hiking up half dome. There are 75 half dome backpackers permits available for per given day. I have never heard of a backpacker having a problem getting a half dome permit.
Backpacking Half Dome
Trailhead: Trailhead Parking near Happy Isles – Despite the "Parking lot full" sign, I found a spot. Otherwise park in the dirt parking lot near Camp Curry and take the free shuttle to Happy Isles.  Plan to return during shuttle operation hours (It is never fun to realize the shuttle is out of service for the evening).  Bear bins available at both locations.
Distance: ~4 miles to Little Yosemite Valley via the Mist Trail (Day 1). ~14 miles up from LYV to Half Dome and down the John Muir Trail to Trailhead. It is a strenuous hike with the backpack, but at least you can leave that behind at the Little Yosemite Valley backpacker camp hiking half dome.
The hike we did was near the end of the season, late September, the cooler temperatures allowing us to make a late morning start do-able. We were able to enjoy the sights of the mist trail, and take a few short breaks on the climb up to Nevada falls because we had a short day one hike. Arriving before nightfall we found the backpackers camp was pretty busy, setting up camp in close proximity to other hikers.
This trip was my first, and only, experience with staying overnight at the deluxe Little Yosemite Valley (LYV) backpackers camp (Curtis and I did spend one night at the camp on the far side of LYV, which I would refer to as non-deluxe). Here there is a solar composting outhouse, bear bins (so you don't have to carry a canister), group fire rings which some go-getter seems to always stock with wood, and many interesting people to meet. The experience is more like a standard "frontcountry" campground than a true backcountry one. Just do not forget your water filter, running water is the one utility not provided at the camp.
The next morning when we woke up and started up the 3.5 miles to half dome we learned the real reason backpacking to half dome is a superior idea to day hiking: We got the cables before the crowds, and enjoyed the summit in relative "solitude".
The experience at the top of half dome is exuberating, mostly because of three factors:
You made it! It was a lot of work hiking here and climbing those cables.
This is the quintessential Yosemite hike. This is often the first question people might ask when they know you have been to the park. You are living the Yosemite dream!
Yeah, it is an outstanding view up here. Arguably you could get a similar view other places in the park (clouds rest, north dome, even sentinel dome), but would you have the triumph of reasons #1 & #2? No.
Enjoy your time at the top, because it is one long hike down. This hike was before Curtis and I discovered our backpacking nerd love of trekking poles, and Jessica's boot was dissembling as she wore it, so it was a good exercise in joint compression all around. At least we took the John Muir trail down – which has less people to slow you down, and the switchbacks make fore a slighter grade.
Day hike or backpack half dome, either way you will be pretty tired at end of the trail. I know it would be exhausting to do it all in one day, but it is also exhausting to carry a pack up and down one of the busiest trails in Yosemite. But worth it to see the top of half dome? You bet!